CyberNations: A Nation Simulation Game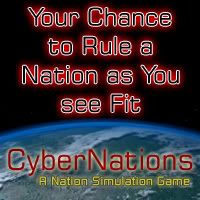 I recently started playing CyberNations. It's a great sim game for nation politics/strategy. Basically you create a nation, set up your government, trade with other nations, and... the best part... WAAARRRRR!!!!
It seems that I started a couple days before a huge global war broke out, which is just perfect timing. We perform coordinated attacks in our alliance that make the game a blast. I even dusted off some old IRC brain cells to coordinate with the others.
Follow the link below to try it out. If you join an alliance make sure it's on the Karma side of the war! Death to the Hegemony!